In June, the economy added 372,000 jobs, with a three-month moving average of 375,000, exceeding market expectations. There was across-the-board job growth, according to the establishment survey, with only the government sector losing jobs (-9K, driven by a likely seasonal loss in federal government jobs). The unemployment rate and labor force participation rate remained relatively unchanged.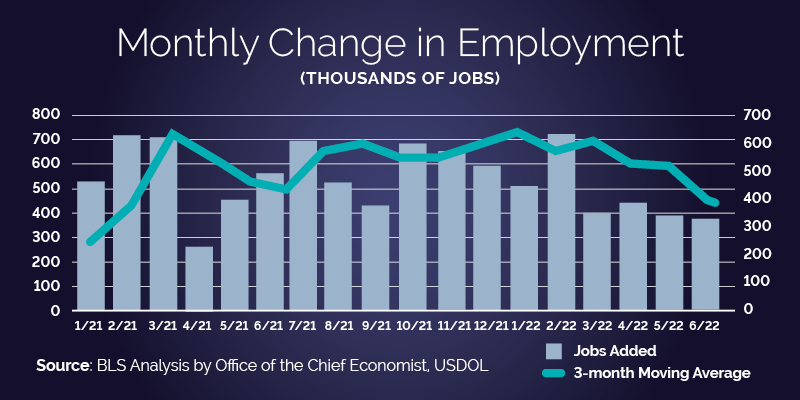 Monthly Change in Employment – plain text
June also marked an important milestone in the economic recovery: Nonfarm private employment exceeded its pre-pandemic (February 2020) level for the first time. In fact, it exceeded that level by 140,000 jobs. Additionally, the manufacturing sector employment exceeded its pre-pandemic level for the first time in June.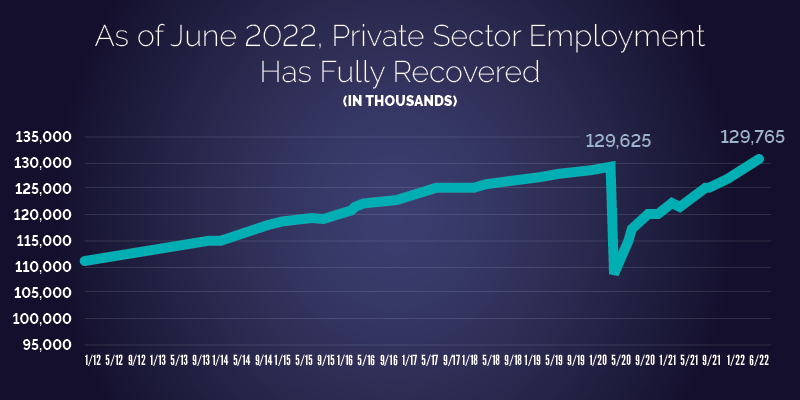 As of June 2022, private sector employment has fully recovered – plain text
Digging below the topline figures and into specific sectors, there are a few dynamics of interest. First, the mix of jobs in construction may be shifting as rising interest rates cool residential construction and investment in public infrastructure rises. Jobs in residential building are above their pre-pandemic level but declined in June. However, jobs in nonresidential building, heavy and civil engineering and nonresidential specialty trade are all still below their pre-pandemic level but rising. These jobs are associated with factory construction, commercial buildings and, importantly, public infrastructure projects.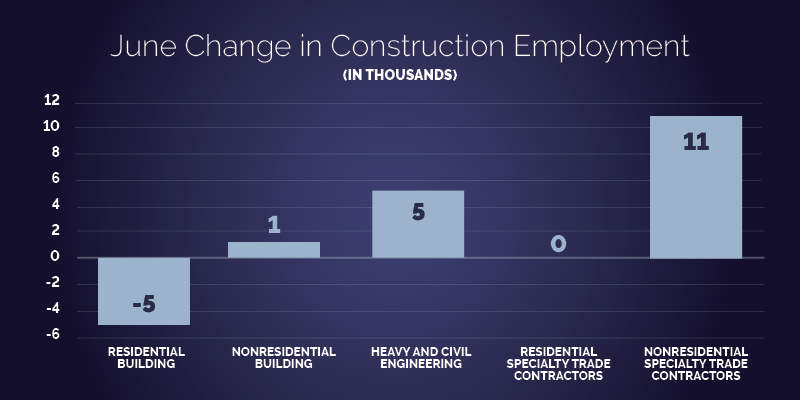 June change in construction employment – plain text
Second, softer sales in retail did not translate into employment losses in June for the whole sector, which still gained about 15,000 jobs. (Retail trade's May figure was also revised upward from -61,000 to -47,00). However, there was still a notable decline in general merchandise store jobs (-7K). These jobs could be responsive to consumers adjusting their budgets to accommodate higher prices, a return to the pre-pandemic negative trend or both. It is too soon to tell.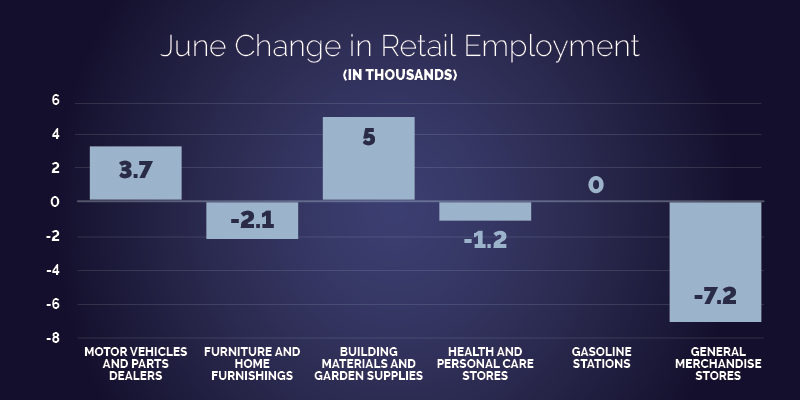 June change in retail employment – plain text
Finally, continued broad-based job growth is  affecting sectors that require in-person work and were deemed high-risk due to the dangers of COVID-19, – notably childcare (+11K) and nursing and residential care facilities (+8K). While the level of employment in these industries are still far below their pre-pandemic level, they are starting to pick up jobs. However, public investment is needed to improve the quality of these jobs and the affordability of the services they provide. When care work is high quality and accessible, other potential workers in the U.S. economy can access job opportunities since they know their loved ones are cared for. Additionally, the Department of Labor is focused squarely on improving these jobs because of their centrality to the health of the overall jobs market and the economy. We're committed to building a care economy that is affordable for working families and ensures that child-care workers are valued and compensated for the essential work they do.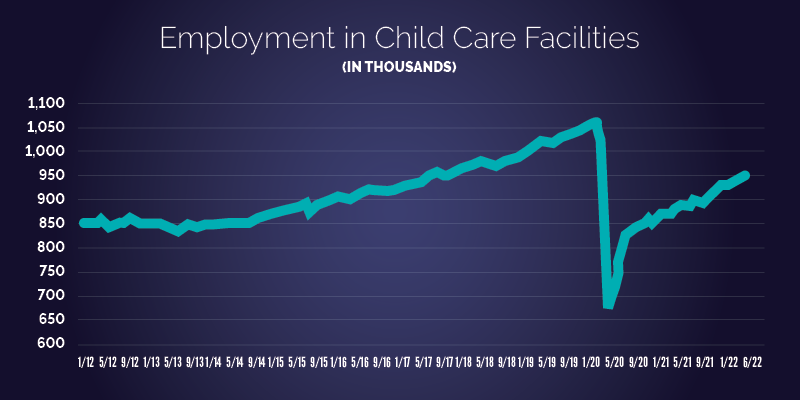 Employment in Child Care Facilities – plain text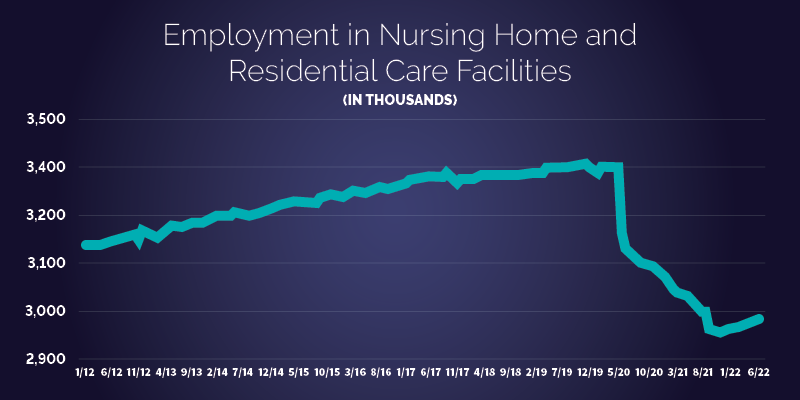 Employment in Nursing Home and Residential Care Facilities – plain text
This Jobs Report reflects the latest progress in what has become the fastest and strongest jobs recovery in American history. This historic job growth puts American families in a strong economic position as the country tackles global economic challenges. The department is committed to empowering workers to take advantage of this strong economy and the new job opportunities and higher wages it's providing, and we'll continue to track our progress toward an equitable recovery for all.
Joelle Gamble is the chief economist for the U.S. Department of Labor.